Community Cat Rescue works in the Peninsula with groups including Palo Alto Humane Society CatWorks to help rescue cats in local areas including Palo Alto, Redwood City, Menlo Park, Portola Valley, Woodside, and Mountain View.
Featured Cat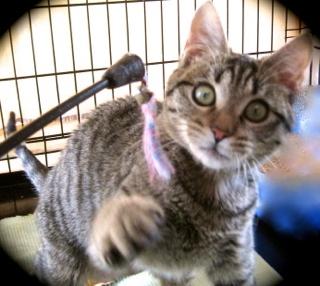 Elsa
No kitten/cat adoption fairs scheduled.
Please check back soon.
Did you know that black cats and kittens are the last to get adopted, and many never find homes?
C'mon, don't judge a book by its cover: take a look at our adorable, affectionate and well-behaved black cats and kittens!
If you are interested in a specific kitten/cat, please visit our adoption gallery. You can check the kitten's/cat's profile to see if it is scheduled to be at our next fair. Otherwise, please fill out an application online and a volunteer will be in touch with you as soon as possible.
The Fine Print — While Community Cat Rescue would love to make our adoptable cats and kittens available to everyone, everywhere, we must limit our adoption service area to San Francisco Peninsula cities and towns. An occasional, rare exception might be made, but is not the rule.

We are not yet a 501(c)(3), but if you'd like to donate, please do so to the Palo Alto Humane Society.
We always need foster homes to help socialize cats for adoption. Volunteer today!
Please send us your comments and suggestions. We'd love to hear from you.