Community Cat Rescue is an all-volunteer, non-profit group dedicated to helping homeless cats on the Peninsula. We help them live long, healthy and peaceful lives through responsible feral colony management and adoptions. Our volunteers rescue the kittens, restore them to health, and give them plenty of TLC. Come and visit the kittens who are waiting for a loving, forever home!
Featured Cat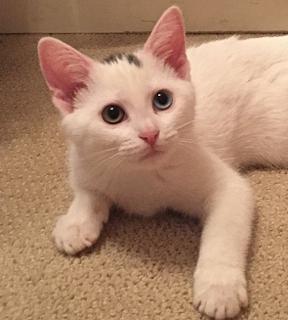 Trilby
Upcoming adoption fair
CALIFORNIA AVENUE FARMERS MARKET
414 S. California Ave (just off El Camino)
Palo Alto, CA 94306 (map)
(650) 308-4228
Sunday, Dec 6th 10am - 1pm
Please download our adoption fair flyer and post it at your veterinary clinic or workplace.
AWESOME FALL Adoption Fee REDUCTIONS! Only $100 for a pair of healthy, happy, loving kittens (regular fee is $175 per pair). Single kitten adoption fees are $50, Adults over 1 year are $25. Ask about further discounts if one of the cats being adopted is a beautiful BLACK CAT!
If you are interested in a specific kitten/cat, please visit our Adoption Gallery. You can check the kitten's/cat's profile to see if it is scheduled to be at our next fair. Otherwise, please fill out an application online and a volunteer will be in touch with you as soon as possible.
The Fine Print — While Community Cat Rescue would love to make our adoptable cats and kittens available to everyone, everywhere, we must limit our adoption service area to San Francisco Peninsula cities and towns. An occasional, rare exception might be made, but is not the rule.
Please send us your comments and suggestions. We'd love to hear from you.